In a surprising turn of events, journalist and television anchor Imran Riaz Khan, who had been missing for an extended period, has been safely recovered, reuniting with his family.
Imran Riaz Khan, a well-known YouTuber and television personality, was arrested two days after violent protests swept across the nation following the arrest of Pakistan Tehreek-e-Insaf (PTI) Chairman Imran Khan on May 9. He was taken into custody and was last known to have been held at Cantt police station before being transferred to Sialkot prison.
His disappearance raised concerns and garnered significant attention from both the media and the legal community. On May 15, a law officer informed the Lahore High Court (LHC) that Imran Riaz Khan had been released from jail after providing a written undertaking.
The Lahore High Court had set a crucial deadline for the Punjab police chief, requiring the recovery of Imran Riaz Khan by September 26. Chief Justice Muhammad Ameer Bhatti had emphasized during the hearing that patience was "running out."
In a statement posted on social media platform X (formerly Twitter) in the early hours of Monday, Sialkot police officially announced the successful recovery of the journalist and anchorperson, stating, "Journalist/anchor Mr. Imran Riaz Khan has been safely recovered. He is now with his family."
Read more:Senior Journalist Sami Abraham returns home after missing for 6 days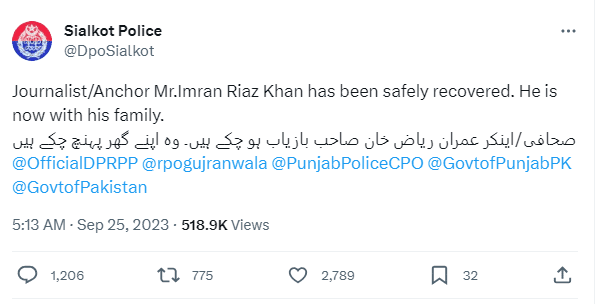 Imran Riaz Khan's lawyer, Ashfaq, also took to X to share the news, expressing gratitude for the safe return of his client. He wrote, "By God's special blessing, grace, and mercy, I have brought back my prince. It took a lot of time due to the mountain of difficulties, the last limit of understanding of the matter, a weak judiciary, and the current ineffective public constitution and legal helplessness."
Imran Riaz Khan's disappearance and subsequent recovery had left many concerned about his well-being and the circumstances surrounding his case. As he reunites with his family, questions about the details of his disappearance and the challenges he faced during this time remain to be answered.