Islamabad, Pakistan – October 4, 2023
Pakistan's cricket fans were met with disappointing news as star fast bowler Naseem Shah underwent surgery on Wednesday to address an injury sustained during the Asia Cup 2023. The young cricketer, who has captured the hearts of many with his exceptional pace and bounce, now faces an uncertain road to recovery.
Naseem Shah's promising career hit a roadblock during a match against India in the Asia Cup when he suffered an injury to his right shoulder. Unfortunately, this injury forced him out of the tournament, and his absence was deeply felt by the Pakistan team.
What compounds the setback for Naseem Shah is the exclusion from the Pakistan squad for the upcoming ICC Men's ODI World Cup 2023. The absence of this talented 20-year-old from the roster is a significant blow for Pakistan, as he was widely regarded as a potential future star of international cricket.
Read more:Another Admirer of Naseem Shah from India expressed her feelings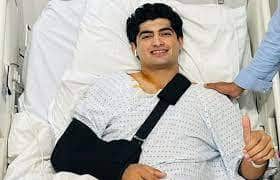 Naseem Shah's remarkable debut for the Men in Green in November 2019 had cricket enthusiasts buzzing with excitement. Despite his tender age, he showcased extraordinary skills as a fast bowler, consistently delivering pace and generating bounce that troubled even seasoned batsmen. His early performances earned him immense praise and placed him on the radar as a player with a bright future.
However, his cricketing journey took an unexpected turn when medical tests following the injury revealed the severity of the damage to his right shoulder. The latest scans have painted a grim picture, suggesting that Naseem Shah may be sidelined for the rest of the year. The road to recovery will require patience and diligent rehabilitation to ensure he returns to the cricketing arena at full strength.
As cricket enthusiasts and fellow players send their wishes for Naseem Shah's swift recovery, the young speedster faces a challenging period of rehabilitation, hoping to bounce back stronger and continue his promising career in international cricket.