The 'La Rose Noire Droptail,' crafted by British automaker Rolls-Royce, has claimed the title of the world's priciest car. This two-door, two-seater vehicle draws inspiration from the opulent high-speed luxury boats of the 1930s. While the exact price remains undisclosed, it's estimated to surpass $30 million, approximately Rs. 9 billion in Pakistani currency.
Limited to just four units, each 'La Rose Noire Droptail' will be tailored to the specific design preferences of the purchaser. This masterpiece, developed over a five-year span, houses a 6.7-liter V12 engine boasting 593 horsepower.
Read more : Car Sales Crash by Over Half Compared to 2022
Characterized by a captivating red and black color scheme, the car's interior emulates the allure of rose petals. The identities of the initial buyers are undisclosed, but they are reputedly an exceedingly affluent couple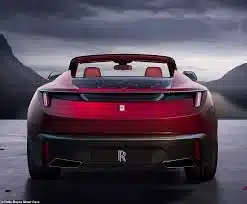 Unveiled at California's Monterey Car Week, the vehicle is meticulously customized to meet the exact specifications of the buyers. Accelerating from 0 to 62 kilometers in just five seconds, the car attains a maximum speed of 155 kilometers per hour.
Formerly, the most expensive car title was held by the Boat Tail car, also from Rolls-Royce, unveiled in May 2021 with a price exceeding $28 million at the time.